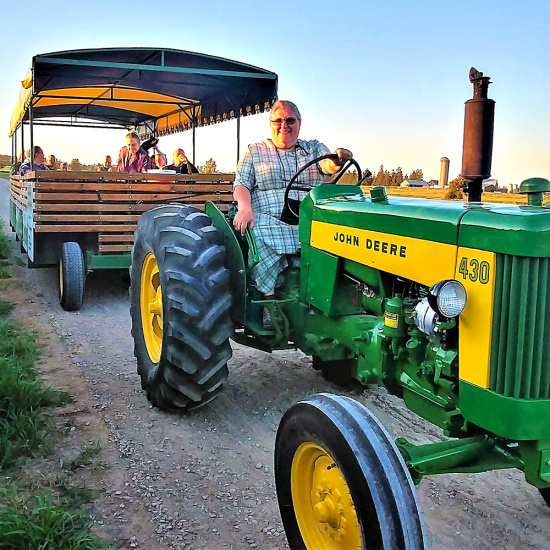 New Popular Tickets
Country Tour Tickets - Add as many tickets as you need!
Our Guided Country Tours are starting on April 15th 2023!
Country Tours at the St. Jacobs Farmers Market!
We are operating Thursdays, and Saturdays, and Tuesdays from June - August!
Tours are at 10:00am, 11:15am, 1:00pm, and 2:15pm
Our tours are an hour long, leaving from the St. Jacobs Farmer's Market and return. An antique John Deere tractor and people mover/wagon will take you out into the country, driving through the beautiful farming landscape of Woolwich Township, which is rich in Mennonite heritage. Our tour will take you through Martin's Family Fruit Farm orchard, past a Mennonite school and rural Mennonite farms. On the wagon is a local tour guide speaking about the Mennonite culture, their way of life, farming in their culture, and some about Mennonite history. There is lots of opportunity for the passengers to ask questions.
A tour not soon forgotten!
Adults: $23.95, Seniors: $21.55 Children: 3 -12 $19.25, Toddlers are FREE
Tours will operate
Tuesdays until August 29th.
Thursdays until Oct. 26th
Saturdays until Oct. 28th